Nearly 90% of seniors want to stay in their home as they age, so why is it that so many development plans for senior living facilities combine assisted living and memory care with independent living? While it may make sense from an investment standpoint to capture the demographic and guide them through the aging process in a traditional senior living facility, it's not what those in the "55 or better" community really want.
Aging in place promotes life satisfaction, a positive quality of life, and self-esteem—all of which are needed to remain happy, healthy, and well into old age. So, rather than focusing on "capturing" a demographic for the rest of their lives, maybe we should focus on how we can tailor to the needs and wants of our seniors and start designing active senior living communities for aging in place.
Designing a Community Seniors WANT to Live In
When it comes to developing a thriving active senior living community, a lot of the success boils down to initial planning and design. Understanding the details unique to senior living, such as mobility, convenience, safety, and security play a major role, but as the old adage goes, it's all about location.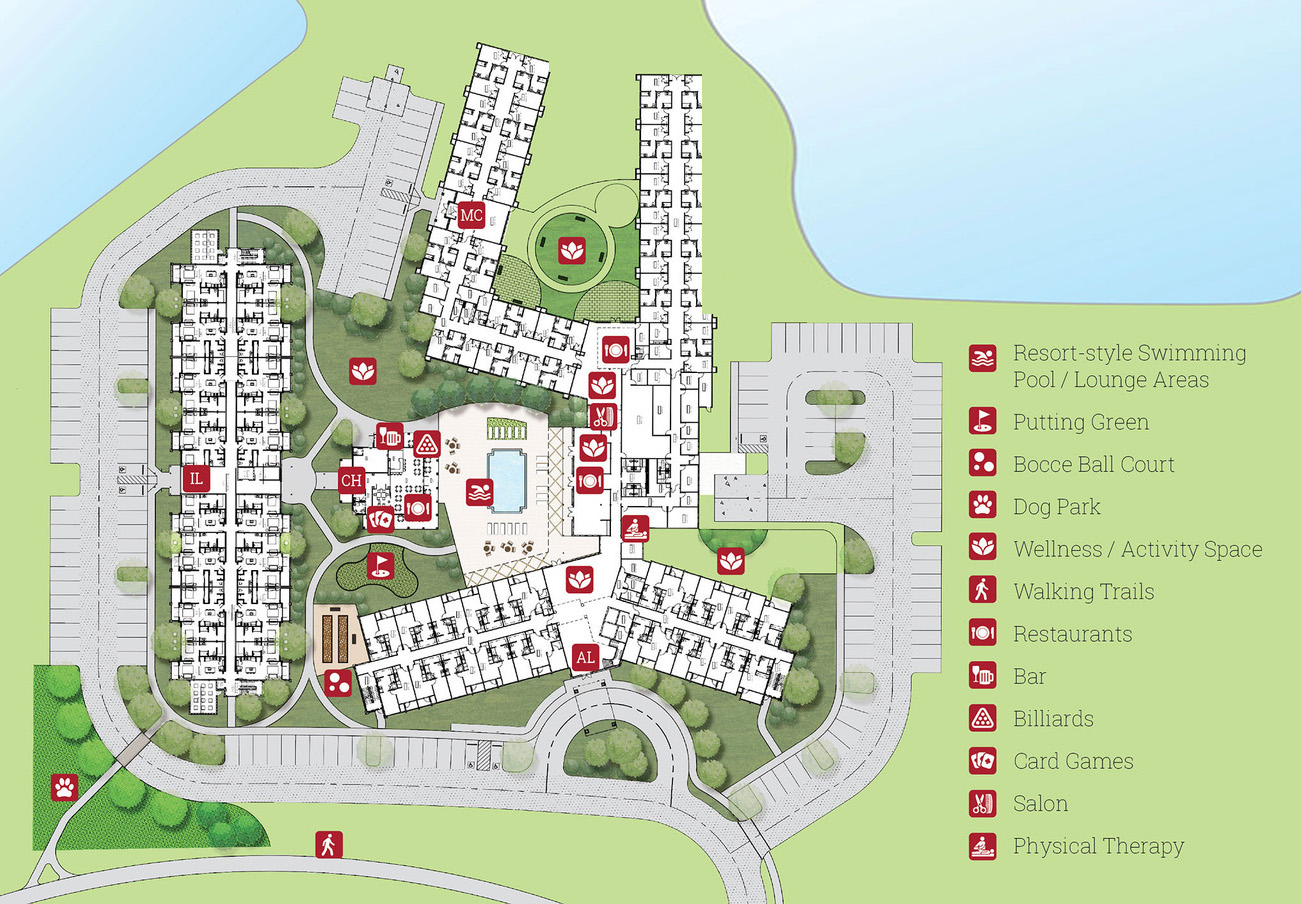 Location. Location. Location.
Seniors aging in place may be perfectly capable of active, independent living, they also rely on a few safety nets, which should be easily accessible from their communities.
Nearby Hospitals and Medical Facilities – Unlike most traditional senior living facilities, active senior living facilities have no skilled nurses on hand meaning these communities need to have accessible hospitals or medical facilities nearby for residents to stay.
Family & Friends – Aging in place is made possible mostly through the support of nearby family and friends. Being in close proximity to children and grandchildren makes the community far more appealing. 
Safety & Accessibility
Another item to note when designing communities for aging in place is safety and accessibility. While these communities tend to have more active adults, it is still important to consider mobility. Homes or apartments in these communities should meet the needs of seniors, be easy to get around, be a size that they can take care of, and potentially offer common ADA features such as walk-in showers. Additionally, common spaces should remain as flat as possible, include ramps where possible and have plenty of handrails.
Activities
Activities are the cherry on top that really push active senior living communities to the next level. A successful development plan should include popular activities for older adults such as tennis, pickleball, and swimming, to name a few. In fact, adding a community center located within the community can be a great way to attract seniors and create a hub for those looking to age in place.
"If you build it, they will come."
It's clear that the next wave of senior living developments are going to begin moving toward active senior living and aging in place. That's not to say more traditional senior living facilities with skilled nurses, assisted living, and memory care are going to disappear. There will always be a need for these facilities. However, there is a huge market of 55 and older looking to settle in place and enjoy their independence, but that requires carefully crafted communities that cater to their needs.