EP 1. – The 21 Day Unit Renovation
Hi there and welcome to the first episode of Kapella Group's Friday Field Videos! In this bi-weekly video series, we'll give you an inside look at what it's like to be a general contractor in the commercial renovations space. I'm Kyle May, head of pre-sales and marketing at Kapella Group and today, we're talking about the 21 day unit renovation…
What Does a 21 Day Unit Renovation Look Like?
I'm here outside of a cottage at The Vi that we have just started working on and while we won't be completing a 21 day renovation here, the overall concept is the same. The "unit" being renovated is just a much larger space and the scope of work is greater than that of a traditional unit, so we need to stretch the timeline out.
In every renovation project, there are a number of checkpoints that must be hit before the next step can be started. For example: before countertops can be templated, the cabinets must be installed. If there is a delay in installing the cabinets, then countertops are delayed, which causes plumbing to be delayed, and so on, leading to a unit renovation taking longer than 21 days. 
Our job as a general contractor is to ensure all of the trades involved in a project work together like a well oiled machine so we can hit our deadlines and minimize the time a unit remains vacant.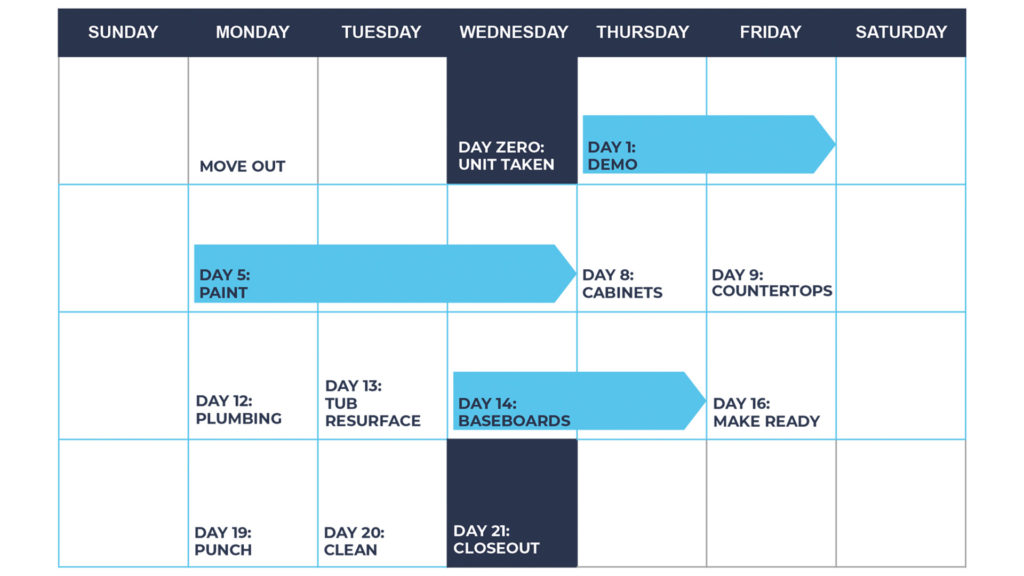 Let's take a look at how we've optimized our project schedules to achieve a 21 day unit renovation…
After taking a unit, we begin with demo. That's what we're doing here at The Vi today.
After completing demo, we immediately begin painting the unit. If a unit requires new flooring (which most units with carpet do,) we can't begin laying new floors until paint is complete.
The next step is cabinets and countertops. As mentioned before, countertop templating relies on base cabinets being installed.
After countertops are installed, the plumber can come in and install new piping for sinks in the bathrooms and kitchen. At this point we will also resurface tubs if necessary.
Next, we get into finishes. At this point we will have a trim carpenter install new baseboards or quarter round if floors have been installed.
Around the same time, we will begin the make ready process of installing cabinet hardware, door stops, light switch covers, and bath hardware.
At this point, we are ready for a final punch walk with the property owner and then final clean.
If everything has gone according to schedule, we will be right around 21 days in possession of the unit. 
The Move to a 14 Day Unit Turn
In some communities we have even been able to hit a 14 day timeline. These units require minimal construction and typically include paint, patch, and repair and maybe the updating of floors and a few fixtures.
Budgeting Season is Upon Us
With budgeting season in full swing for many and fast approaching for the rest, have you stopped to ask who you want working on your projects next year? Global Construction, Kapella Group's general contracting arm is equipped to handle CapEx and Renovation projects in both the multifamily and senior living space and would be happy to bid on any upcoming projects!